International Symposium on Biotechnology for Green Growth
⇒

Abstracts PDF (3.45MB) Download
Co-organized by the Japan Science and Technology Agency (JST)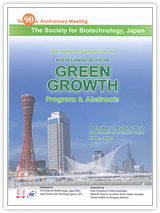 Dates: October 24–26, 2012

Place: Kobe International Conference Center ⇒Floor Map
     International Conference Room (3F), Room no. 502 (5F)

Admission: Free
For those who attend International Symposium only:
Deadline for online registration: October 17, 2012



Print out the confirmation email and hand it in at the registration desk on site where you will receive an admission pass.

If you have not registered online, you need to fill out a registration form or leave your buisness card at the registration desk.
NOTE: Participants who have registered for the SBJ anniversary meeting can join the international symposium without the pre-registration.
However, all the symposium participants will be requested to fill in a name card at the symposium registration desk, where they can pick up the proceedings, a congress bag and other novelty goods, before attending symposium.
Registration desk for the International Symposium on Biotechnology for Green Growth will be located at a different place on October 24 and 25.
October 24 & 25 (8:30-12:00): Room F (5F)
October 24 & 25 (13:30-19:00) and October 26: Entrance Hall (3F)
Topics and Organizers
⇒Program-at-a-glance and Speakers List
Advances in PhytoGenomics
Kiichi Fukui (Osaka University), Toshiya Muranaka (Osaka University)
Bio-based Production

Hiroshi Shimizu (Osaka University), Ei-ichiro Fukusaki (Osaka University)


Biomolecular Engineering [co-organized by Young Asian Biochemical Engineers' Community (YABEC)]
Takeshi Omasa (The University of Tokushima), Noriho Kamiya (Kyushu University)

SBJ/JST Joint Symposium I -General Session
Tadashi Matsunaga (Tokyo University of Agriculture and Technology), Hisao Ohtake (Osaka University), Shigeru Ishimasa (JST)

Japan-Korea Biomass Session
Atsuhiko Shinmyo (Nara Institute of Science and Technology), Shigeaki Fujikawa (NPO Kinki Bio-Industry Development Organization)

SBJ/JST Joint Symposium II -Biorefinery-
Haruko Takeyama (Waseda University), Yoshihiro Shiraiwa (Tsukuba University)

SBJ/JST Joint Symposium III -Biofuel production by microalgae-
Masayuki Ohmori (Chuo University), Shigeru Okada (The University of Tokyo)

SBJ/JST Joint Symposium IV -System & Synthetic Biotechnology-
Daisuke Umeno (Chiba University, Japan), Tomohisa Hasunuma (Kobe University, Japan)、Kohsuke Honda (Osaka University, Japan)
Contact
Symposium Secretariat
E-mail: