General Information
The 65th Annual Meeting of the Society for Biotechnology, Japan
Important Dates
| | |
| --- | --- |
| Online Abstract Submission | May 7 (Tue)–12 noon on May 28 (Tue), 2013 (JST) |
| Online Registration | May 7 (Tue)–12 noon on August 20 (Tue), 2013 (JST) |
| Publication date of the Meeting Abstracts | August 25, 2013 (tentative) |
Schedule
September 18 (Wed)
September 19 (Thu)
September 20 (Fri)
am
(9:30–11:45)
Award Ceremony/
Award Lectures
Symposia/
Topics Workshop
Symposia/
Topics Workshop
Lunch Break
(12:15–13:15)
Luncheon Seminars
Luncheon Seminars 
Luncheon Seminars
pm
(13:30–15:30/
15:45–18:00)
Poster Session

Poster Session,
KSBB Invited Presentations
Poster Session,
KSBB Invited Presentation
Award Lectures/
Symposia
International Symposium
"New Stages of Phage Biocontrol:
Challenge of Red Queen"
⇒HP
Symposia
Symposia
18:30–
Banquet
(18:30–20:30)
Young Researchers Committee
for Biotechnology
(18:30–20:30)
Fees
Registration Fee
Banquet Fee
Advance Registration
(Before August 20)
On-site
Advance Registration
(Before August 20)
On-site
Active members
10,000 JPY
12,000 JPY
8,000 JPY
10,000 JPY
Student members
6,000 JPY
8,000 JPY
4,000 JPY
5,000 JPY
Non-members
14,000 JPY
16,000 JPY
10,000 JPY
12,000 JPY
(Consumption tax included.)
The Meeting Abstracts and Attendee Pass will be sent when payment is confirmed after August 25, 2013.
PDF version of the Meeting Abstracts will be available on this site for participants who complete payment by due date. (for three months from early September, 2013)
Award Ceremony and Award Lectures
Date: September 18, 2013 9:30–11:45, 15:45–17:30
Place: Room A (Phoenix Hall)
Banquet
Date: September 18, 2013 18:30–20:30
Place: ANA Crowne Plaza Hiroshima (7-20 Nakamachi Naka-ku, Hiroshima-shi, Hiroshima,730-0037, Japan)
10 min walk from the meeting venue
Poster Presentation
⇒Schedule (Classifications and Presentation numbers)
A member in good standing can make one presentation.⇒more information
The board size is

0.9 m wide and 2.1 m high

(from top to the floor).
KSBB Invited Presentations
4 speakers from the Korean Society for Biotechnology and Bioengineering will make presemtatoions in the psoter sessions.⇒more information
2P-073  Prof. Dong-Myung Kim (Chungnam National University)
2P-090  Prof. Byung-Gee Kim (Seoul National University)
2P-091  Prof. Seung Pil Pack (Korea University)
3P-238  Prof. Soonjo Kwon (Inha University)
Topics Wokshop
The meeting committee has selected 22 presentations as meeting topics. Workshops will be held on September 19 and 20 for further discussions on those selected topics. Presenters of the selected topics will be required to make an oral presentation in the workshop in the morning as well as poster presentation in the afternoon.
Symposia
21 topics have been proposed by SBJ members for symposium session.⇒Symposium Topics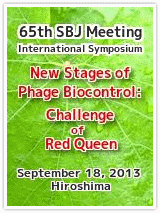 International Symposium entitled "New Stages of Phage Biocontrol: Challenge of Red Queen" will be organized by Prof. Takashi Yamada (Hiroshima Univ.) and Dr. Orawan Chatchawankanphanich(NSTDA, Thailand) .
⇒HP

Date: September 18, 2013 15:45~18:00
Place: International Conference Center Hiroshima, B2F Room F (Ran)
Fee: Free
Registration:

On-site registration is required for those who attend the international symposium only.

Please come to the symposium registration desk to receive an admission pass.
Participants who have registered for the 65th SBJ meeting can join the international symposium without the registration.
NOTE: To attend the award cecermony, award lectures, poster session, other symposia, or exhibition, symposium participants must pay for the registration fee of the 65th SBJ meeting.
Luncheon Seminars
Date: September 18–20, 2013  12:15–13:15
Place: Room B (Dahlia 1), Room C (Dahlia 2), Room D (Cosmos 1), Room F (Ran)

Pre-registration is required. Please bring the printed copy of the confirmation email you received after the online registration. You need to get a ticket at the registration each morning.

Contact
Please visit the FAQ page before you make inquiries.
SBJ Meeting 2013 Secretariat
Graduate School of Advanced Sciences of Matter
Hiroshima University
1-3-1 Kagamiyama, Higashi-hiroshima
Hiroshima 739-8530, Japan
Fax: +81-82-424-7047
E-mail:
For inquiries regarding membership or online registration, contact:
The Society for Biotechnology, Japan
Business Office
c/o Faculty of Engineering, Osaka University
2-1 Yamadaoka, Suita
Osaka 565-0871, Japan
Tel: +81-6-6876-2731
Fax: +81-6-6879-2034
E-mail: