DaSilva Award 2021 – About the Winner
Last updated: 2021.07.20
Hui-Suan Ng (Grrace)
Affiliation:
Faculty of Applied Sciences, UCSI University, Malaysia.
Research title for the award:
An integrated approach for sustainable production of keratinase using aqueous biphasic electrophoresis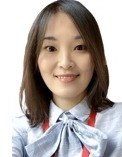 Dr. Hui-Suan Ng (Grrace) is currently a Director of Centre of Excellence for Research, Value Innovation and Entrepreneurship and an Associate Professor at the Faculty of Applied Sciences in UCSI University (Malaysia). She obtained her Ph.D. in Bioprocess Engineering from Universiti Putra Malaysia in 2013. She then joined UCSI University as Lecturer upon her graduation. She was nominated as the "Best New Lecturer" during her first year in UCSI University and successfully secured the national research grant from the Ministry of Higher Education, Malaysia in the field of Separation Technology. She was then promoted to Assistant Professor in 2016 and Associate Professor in 2018 with her excellent track records in research publications. Her research areas involve bioseparation, fermentation technology, natural products recovery, biofuel and biorefinery. She has published a total of 40 SCI-indexed journal articles with 90% are ranked in Q1 and Q2 papers.
[Message as a prize winner]
I would like to express my sincere thanks to the Society for Biotechnology, Japan for selecting me as the winner of DaSilva Award 2021. I am truly honoured for this recognition which motivates me to continue to advance in the field of microbial biotechnology. Sincere gratitude to Prof. Dr. Jo-Shu Chang for nominating me for this award and the all-time valuable advice. Special thanks to Prof. Dr. John Chi-Wei Lan for the priceless advice, guidance and support. My sincere appreciation to all my collaborators, colleagues, and diligent students for their dedication in all the research projects undertaken. I anticipate working and establishing collaboration with SBJ and researchers all over Asia.