Joint SBJ Meeting with Indonesia, Philippines, and Thailand
Last updated: 2022.11.14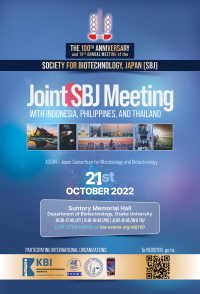 On Friday, October 21, 2022, following the 74th annual meeting of the Society for Biotechnology, Japan (SBJ), commemorating the society's 100th anniversary of founding, we will hold a symposium titled "Joint SBJ Meeting with Indonesia, Philippines, and Thailand" to commemorate the 100th anniversary of the organization's founding.
When: October 21, 2022 10:30–18:00

Where: Online
(Information for the online symposium will be posted later.)

Joining fee: Free (Prior registration is required.)


[Morning Session] 10:30–12:30 (Opening remarks and introduction of activities)
Prof. Fukuzaki, the President of SBJ, and representatives from biotechnology-related societies in Indonesia, Thailand, and the Philippines will introduce their respective societies' activities.
♦ The Society for Biotechnology, Japan(SBJ President, Prof. Eiichiro Fukusaki)
♦ Indonesia Biotechnology Consortium(Dr. Mastur)
♦ Indonesia Society for Microbiology(Dr. Iman Rusmana)
♦ Philippine Society for Microbiology(Dr Howell Ho)
♦ Thai Society for Biotechnology(Prof. Penjit Srinophakun)

[Afternoon Session] 15:15–18:00
Lectures by researchers from Indonesia, the Philippines, Thailand, and Japan
Topics:
1. Food Biotechnology & Fermentation
2. Agricultural Biotechnology (plant & animal)
3. Biosecurity & Biosafety (including Intellectual Property)
4. Bioenergy & Bioeconomy
5. Molecular & Medical Biotechnology
6. Environmental Biotechnology (including plankton)
Registration


Click here to register!
Contact
International Center for Biotechnology (ICBiotech)
Osaka University
FUJIYAMA Kazuhito  E-mail