Journal of Bioscience and Bioengineering – Vol. 128 (2019) Cover
Last updated: 2019.12.25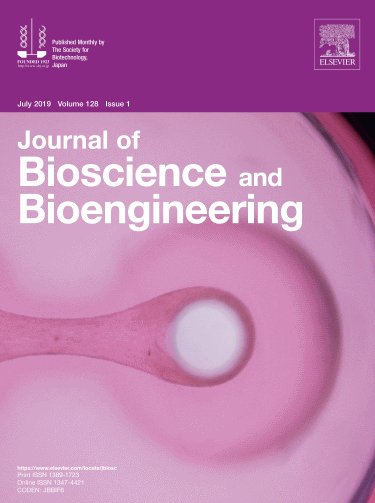 Fabrication of in vitro functional tissues which can accurately model disease condition is required for efficient drug development. Although there are a lot of skeletal muscle related diseases, very few drugs for them have been developed so far. Kazunori Shimizu and Hiroyuki Honda have developed 96 well formatted microdevices for fabricating tissue-engineered human contractile skeletal muscle and applied them to model disease condition such as skeletal muscle atrophy. A ribbon-shaped skeletal muscle tissue with a lot of myotubes is formed between two micro-posts. When the tissue generates a contractile force by electric stimulus, the tip of the post (white circle) moves and the contractile force can be quantified by its displacement.
This image was taken by Nao Yamaoka and Saki Ohsumi at Honda's laboratory in Nagoya University (http://www.nubio.nagoya-u.ac.jp/proc/index_english.html).
(© 2019 The Society for Biotechnology, Japan).