The Society for Biotechnology, Japan – 63rd Annual Meeting (2011)
| | |
| --- | --- |
| Dates | September 26 (Mon) – 28 (Wed), 2011 |
| Venue | |
Important Dates
Online Abstract Submission
May 9 (Mon) – May 27 (Fri), 2011 at 12:00 (JST)
Online Registration
May 9 (Mon) –

August 19 (Fri), 2011 at 17:00 (JST)

Publication date of the Meeting Abstracts
August 25, 2011
Abstract Submission – Points to be Noted
General Presentations will be accepted from active or student members of the Society who have paid their membership dues for 2011.




A member can make one presentation.
The time allocated for each presentation is 12 minutes (including questions and answers).
Presentation schedules will be informed by e-mail when the official program is finalized.

All presentations must be made using PowerPoint.
Speakers are requested to bring their own PC.

How to Apply
2011 SBJ Meeting Registration is required before abstract submission.
A SPEAKER must register using his/her own e-mail address.
⇒How to Register for SBJ meeting 2011
Fees
 
Registration Fee
Banquet Fee
Registration in advance
(Before 19 August, 2011)
On-site
Registration in advance
(Before by 19 August, 2011)
On-site
Active members
8,000JPY
10,000JPY
10,000JPY
12,000JPY
Student members
6,000JPY
8,000JPY
5,000JPY
6,000JPY
Non-members
12,000JPY
14,000JPY
12,000JPY
14,000JPY
(Consumption tax included.)
The Meeting Abstracts and Attendee Pass will be sent when payment is confirmed after August 25, 2011.
Attendee Pass can be used as a receipt for payment. If you need the English version of the receipt, please contact SBJ Business Office.
If we cannot confirm the payment for registration fees by due date, applicants will be requested to pay the on-site rate.
⇒SBJ meeting fee waiver for students from earthquake affected areas
Access
From Narita Airport
From Narita Airport Station to Tokyo Station, take JR Narita Express: 62 minutes.
From Tokyo Station, take the JR Chuo line (rapid train) to Higashi-koganei Station: 40 minutes.

From Haneda Airport
Take Tokyo Monorail from Airport to Hamamatsu-cho station: 22 minutes.
From JR Hamamatsu-cho station, take a JR Yamanote inbound to Tokyo Station: 5 minutes.
From Tokyo Station, take the JR Chuo line (rapid train) to Higashi-koganei Station: 40 minutes.

Form JR Higashikoganei station to Koganei Campus
10 min walk from Higashi-koganei station
The East Gate is closed due to construction work.
Please use the entrance to the student dormitory.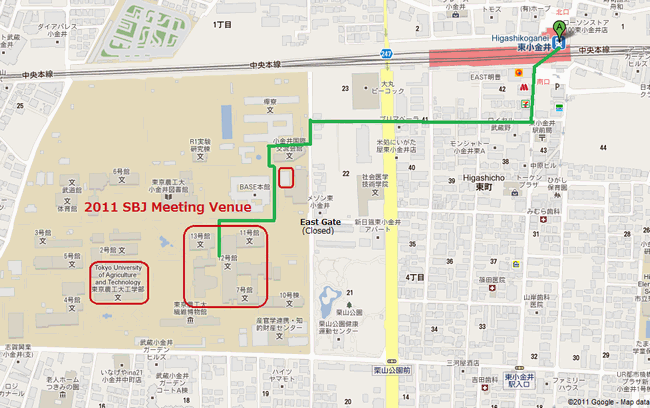 On-Site PC Check
On-site PC check is available during the following hours.
Sept. 26 (Mon) 11:30-12:30 (For Room S1: 12:00-13:00)
Sept. 27 (Tue) 8:10-8:55
Sept. 28 (Wed) 8:10-8:55

Contact
SBJ Meeting 2011 Secretariat
Department of Biotechnology and Life Science
Tokyo University of Agriculture and Technology
2-24-16 Naka-cho, Koganei, Tokyo
Japan 184-8588
FAX: 042-388-7479
E-mail:
For inquiries regarding membership or online registration, contact:
The Society for Biotechnology, Japan
Business Office
c/o Faculty of Engineering, Osaka University
2-1 Yamadaoka, Suita
Osaka 565-0871, Japan
Tel: +81-6-6876-2731
Fax: +81-6-6879-2034
E-mail: